Our pledge – 1% for the world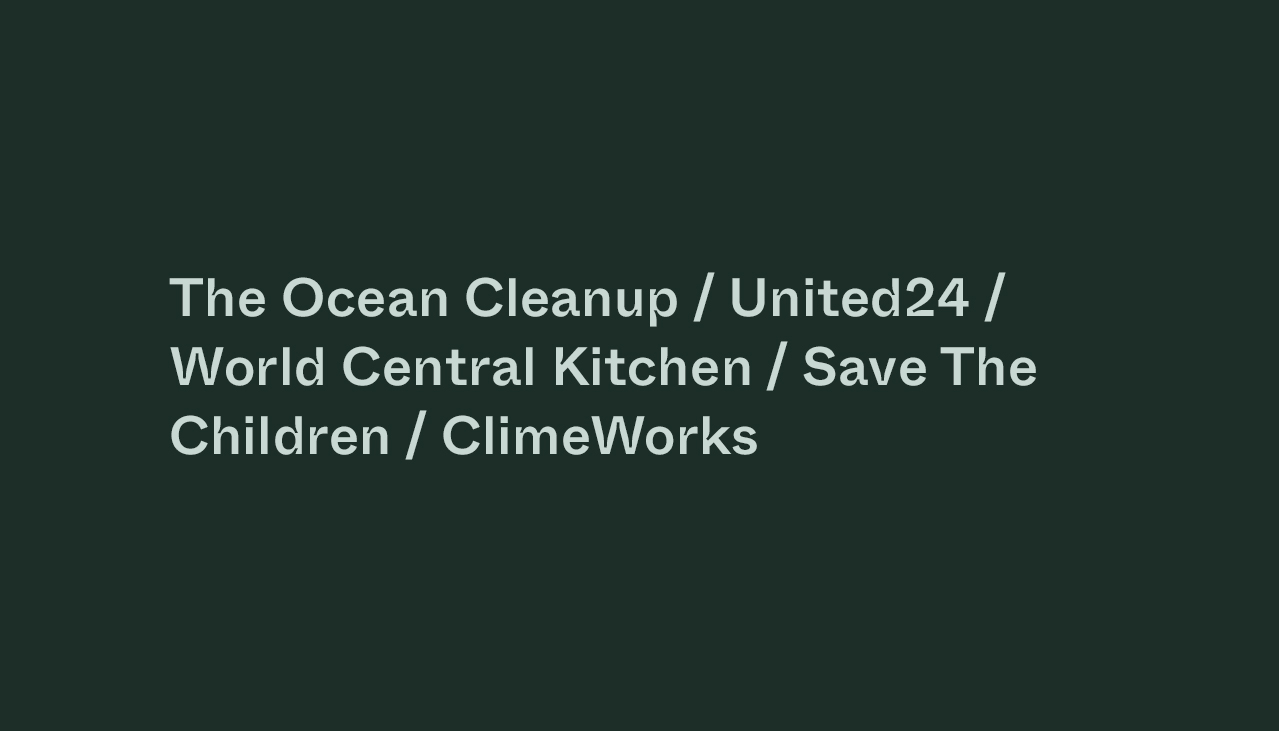 Social Doctor believes that business can and should play a significant role in the betterment of our world. So, we're pledging 1% to the causes our team members care most about. Each year we choose a series of new philanthropic organizations to support. Below are the organizations we've chosen for 2023. From supporting Ukraine in their harrowing effort to remain a free and democratic country to a truly innovative approach to cleaning our oceans of plastic, this year's group of organizations is working hard for all our benefits. If you're passionate about any of the causes we are, we encourage you to donate as well. Let's make a difference.
The Ocean Cleanup®
The Ocean Cleanup develops and scales technologies to rid the oceans of plastic. Every year, millions of tons of plastic enter the oceans, of which the majority spills out from rivers. A portion of this plastic travels to ocean garbage patches, where it gets caught in a vortex of circulating currents alongside plastic from other sources (e.g. offshore fishing activities). These plastics have devastating impacts on marine life and the ecosystem.
United 24®
UNITED24 was launched by the President of Ukraine, Volodymyr Zelenskyy as the main venue for collecting charitable donations in support of Ukraine. Funds will be transferred to the official accounts of the National Bank of Ukraine and allocated by assigned ministries to cover the most pressing needs.
World Central Kitchen®
Founded by renowned chef José Andrés, the World Central Kitchen is first to the frontlines, providing meals in response to humanitarian, climate, and community crises. The World Central Kitchen builds resilient food systems with locally led solutions.
Save The Children®
The Save the Children Fund, commonly known as Save the Children, is an international non-governmental organization established in the United Kingdom in 1919 to improve the lives of children through better education, health care, and economic opportunities, as well as providing emergency aid in natural disasters, war, and other conflicts. After passing a century, it is now a global movement made up of 30 national member organizations that work in 120 countries, including the United States.
ClimeWorks®
Climeworks uses a technology called 'direct air capture' to capture carbon dioxide directly from the air. When the captured CO₂ is combined with underground storage, it allows the permanent removal of excess and legacy CO₂ emissions, which can no longer contribute to climate change.
---
At the end of the fiscal year 2023, 1% of net profits will be divided equally and donated to the five organizations listed above. After the donations have been made, this article will be updated with a receipt of the donations.